Top Cold Wallet Hardware
Best Cold Wallets - Crypto Product Reviews
While the Cryptocurrency codes themselves have proven resilint to hacking attacks the exchanges that the currencies sit on have been hacked. This has led to changes in ways that cryptocurrencies are used and stored.
There are a variety of ways to store cryptocurrency. The most common way is to simply have cryptocurrency on an online exchange. This however is proven to have perils of being hacked. There have been hackings of the exchanges (MtGox) which has led to a change in investor behavior. Wallets that are connected online and thus hackable are called Hot Wallets and those that are Offline are called cold wallets. Most large investors now store their crypto currency fortunes in some form of cold wallet.
Even complex digital hardware wallets can be hacked however some models have better track records than others. They can also be hidden or stored in secured locations.
Traits to keep in mind:
Security - Looks at security parameters and each company's track record. This is a major thing to look at and consider.
Looks - It may seem trivial but if you are going to spend money it, it might as well look cool.
Cost - Cold wallets range from free DIY versions to expensive models
Types of Coins - Cold Wallets are often designed with certain currencies in mind. You need to know what cryptocurrency you want to invest in and make sure the wallet you want supports it.
Mobility - How do you store it, and find it. It it easy to carry.
User Experience - How is it used, do you understand it
Breakability - Computer hardware can break.
Security is a major issue with Cryptocurrency we recommend reviewing the tips from Coin Desk for more ideas:
https://www.coindesk.com/tips-keep-bitcoins-secure/
I would also recommend basic security tips. Don't talk or brag about your cryptocurrency holdings, don't tell others how you store it. Also if you have a significant amount of holdings consider breaking it up multiple private keys and cold wallets. Also always have a back up in case your cold wallet breaks or is lost.
Here are some options on the market today for hardware wallets: Be sure to do your own research on all options and potential vulnerabilities of each wallet device. For your convenience we have connected the page to the Wallets as found on Amazon through our link through the Amazon Affiliate Program.
KeepKey---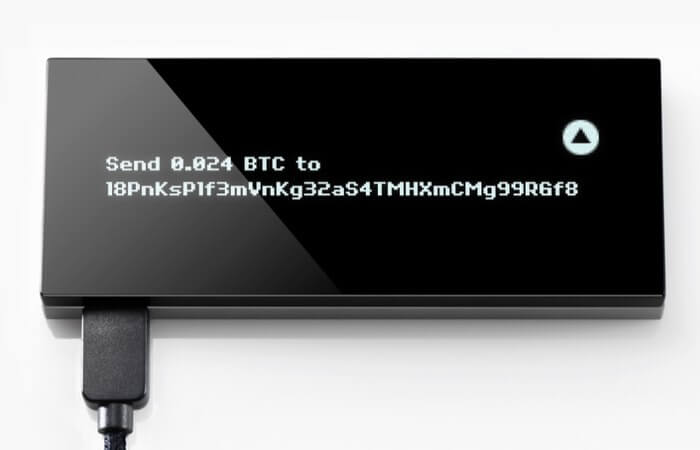 KeepKey is one of the newer companies. It has a sleek design that looks very cool. It has a simple UI and is said to use a similar code and firmware as that used by Trezor. It is a bit bigger of a block than the others so keep that in mind for portability concerns.
Nano Ledger S --
Nano Ledger S has become pretty popular. It is one of the cheaper Hardware wallets available. It is small and very portable.
Trezor --
Trezor is one of the first wallet hardwares to come out and is still considered to have a high standard of crypto security. They are known to work with the best security professionals to create a design that withstands various forms of theft. Treznor is a very trusted name. Some people don't like its price or its looks but it is a proven wallet.



--Kid Crypto uses a Trezor wallet.

Important Disclaimer: Dark Street does not endorse any financial vehicle or investment. Opinions expressed on Dark Street are those of the writers and not of Dark Street. The information provided in Dark Street including but not limited to; articles, notes, webinars and accompanying material is for informational purposes only. It should not be considered legal or financial advice. You should consult with an attorney or other professional to determine what may be best for your individual needs. Dark Street does not make any guarantee or other promise as to any results that may be obtained from using our content. No one should make any investment decision without first consulting his or her own financial advisor and conducting his or her own research and due diligence. To the maximum extent permitted by law, Dark Street disclaims any and all liability in the event any information, commentary, analysis, opinions, advice and/or recommendations prove to be inaccurate, incomplete or unreliable, or result in any investment or other losses. Content contained on or made available through the website is not intended to and does not constitute legal advice or investment advice and no attorney-client relationship is formed. Your use of the information on the website or materials linked from the Web is at your own risk.